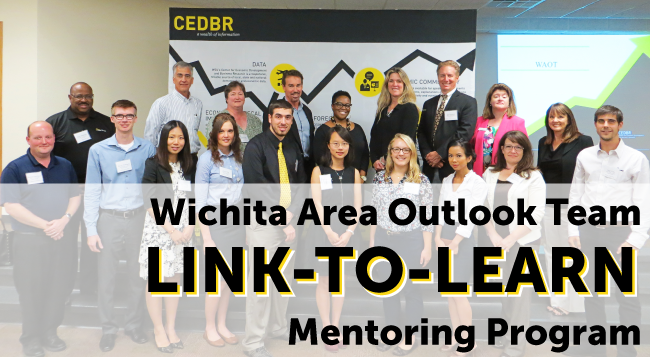 WHO COORDINATES THE PROGRAM?


The Wichita Area Outlook Team (WAOT) Link-to-Learn program is coordinated by the Center for Economic Development and Business Research, part of the W. Frank Barton School of Business at Wichita State University. The team is organized by CEDBR and consists of around 50 business professionals in the Wichita area who come together to discuss important topics related to our economy.

WHAT IS WAOT LINK-TO-LEARN?

Students are asked to submit applications each year around the start of the fall semester. Those chosen to be part of the program are then paired with business professionals that participate on the Wichita Area Outlook Team.

THE EVENTS

Students will have opportunities to meet with their mentors at two different events, the fall WAOT meeting and at the annual Kansas Economic Outlook Conference. Mentors are not required to maintain a relationship with students following these events.

WAOT Fall Meeting

The WAOT meeting includes a complimentary lunch and an open discussion with local businesses and government leaders on current local, national, and global economic conditions and their expectations for the next year.


Kansas Economic Outlook Conference

The Annual Kansas Economic Outlook Conference boasts more than 700 attendees annually and covers topics affecting our local, state, and national economies. The conference includes breakfast and features speakers who will address economic trends in specific industries. For more information visit: eoc2016.cedbr.org.

HOW TO APPLY

To be considered for this opportunity for the fall 2016 program, please return the following completed application form to Linda Mendy (email address provided on the form) by Tuesday, September 6, 2016.

There are a limited number of opportunities available.

LIST OF 2016 MENTORS

Walter Berry
President
Berry Companies, Inc.


Vicki Bond
Chief Executive Officer
Medical Provider Resources

Mis Gaston
Mall Manager
Towne East Square


Linda Jolly
Executive Director
El Dorado Inc.


Kevin Kretsch
General Manager
Hyatt Regency Wichita


Steve Martens
Chief Executive Officer
Jeff Englert
Commercial Advisor
NAI Martens


Mark Schmelzle
Senior Vice President
Allen, Gibbs & Houlik, L.C.


Don Sherman
Vice President
Westar Energy


Jeff Weiford
Vice President
GLMV Architecture


Ken Wells
Chief Executive Officer
Key Construction, Inc.

"I got a chance to network with local business executives and engage in discussions on economic trends. Having the opportunity to sit at a table with GLMV Architecture during the conference was and enriching/inspiring experience. With my major in Finance, Mr. Weiford sat me next to the CFO of his company and we discussed different career options as well as how he began his career."

- Tiffany Phommarath
"Overall, I really enjoyed the WAOT programs! The main reason being that I was given a great mentor: Susie Santo, CEO and President of Visit Wichita. She made me feel really comfortable at the professional events and made sure to introduce me to a variety of local businessmen/women. The WAOT meeting and Economic Outlook Conference were both interesting, dynamic events-- a lot of great economic/business news was shared. In addition, networking opportunities were endless! If given the chance, I would do it annually!! Thanks again for the opportunity!"

- Brittany Balk