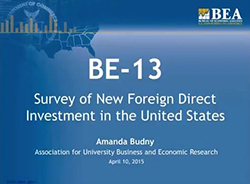 Center for Economic Development and Business Research
director, Jeremy Hill, was part of coordinating two recent economic development webcasts.
The first webcast addressed the Bureau of Economic Analysis bringing back the BE-13 survey, a survey of foreign direct investment. The data will likely become a valuable tool in understanding regional and state economies. The presentation, given by Amanda Budny, Chief of the New Foreign Investment Section at BEA, included the following key points:
· Timeline of BE-13
· Overview of investment transactions
· Data collected
· Expected data to be published

Watch the webcast.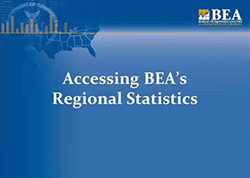 The second webcast was also presented by the Bureau of Economic Analysis (BEA). BEA produces several measures of economic activity at the state, county and metro-area levels. This webcast provided a brief overview of each of these measures, as well as a detailed tour of the regional section of BEA's website. The webcast teaches the best way to access the full range of regional economic statistics, including gross domestic product, personal income, and the new measures of regional price parities and personal consumption by state. The webcast was presented by Nicholas Empey, chief of the DAS Group, Regional Economics Directorate at BEA.