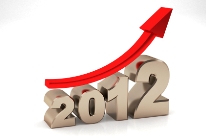 The Kansas unemployment rate was 6 percent in November 2011. This continues the general decline in unemployment rates since mid-2009, after fluctuating a bit throughout 2011. Kansas employment is expected to remain flat in 2011 when compared to 2010. Gains in the production and service sectors are expected to offset losses incurred in trade, transportation and utilities, as well as the government sectors.
The Kansas economy is expected to stabilize and begin growing at a modest pace. The Center for Economic Development and Business Research estimates total employment growth of 1 percent, for a net increase of 13,010 employees, in 2012.
To read the complete 2012 revised forecast for Kansas, click here.