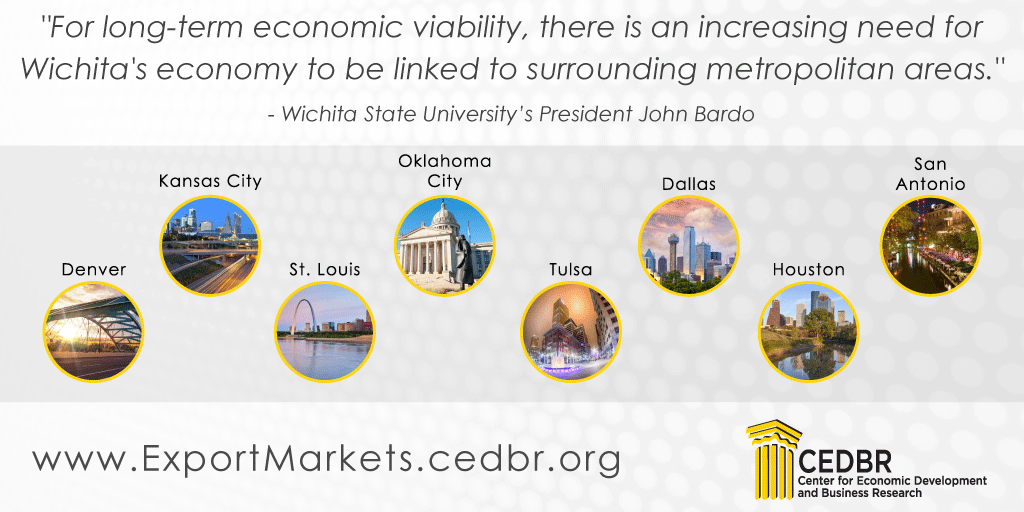 The Center for Economic Development and Business Research, part of Wichita State University's W. Frank Barton School of Business, has completed a study of the regional export potential Wichita has to the surrounding areas.
"For long-term economic viability, there is an increasing need for Wichita's economy to be linked to surrounding metropolitan areas," said WSU President John Bardo. "This study is an important resource to encourage these relationships and provide greater growth opportunities for the South Central Kansas economy."
The project investigated the potential export markets for intermediate goods in eight major nearby metropolitan areas: Denver, Kansas City, St. Louis, Oklahoma City, Tulsa, Dallas, Houston, and San Antonio. Wichita has a diverse set of goods-producing sectors that are in demand as inputs to these nearby metropolitan areas, and two sectors in Wichita that are demanded consistently across metropolitan regions are the coating and engraving sector and the machine shop sector.
Wichita can potentially supply a variety of additional goods to each of the metropolitan and megapolitan areas discussed in this report. The markets with the most diverse demands from Wichita are Houston and Tulsa, each with eight different sectors potentially demanding Wichita inputs from its top ten most concentrated industries.